Strategic Plan

The strategic plan of the foundation is to foster communication and cooperation among professionals from all specialties, but with the common interest in the overall outcome of their patients
HSF addresses healthcare disparities by educating families about the need for interdisciplinary team care. The foundation also develops and implements programs to identify causes and support preventive measures to reduce the incidence of cleft lip and palate.
Establish nation-wide network of Healing Smile Centers where treatment to restore facial function and appearance is imparted to patients, giving them independence and dignity.
Develop support for children and adolescents affected by CLP at school and in social settings through such activities as confidence-building camps.
Increases public awareness, it is our goal to see a time very soon when persons with facial differences are accepted for who they are and are not judged by their appearance by the general public, educators, employers, and even members of their own families.
Resolve emotional stigma & parental bonding issues because it is hard to look at a child with cleft palate. The face is unsightly and food and liquids pass through the mouth and nose. Feelings of love mix with disgust as parents struggle to suppress natural abhorrence (aversion) and respond with affection for their child. This causes tremendous conflict and guilt in the parents. Parents may avoid eye contact with the infant, resulting in difficulty for the child to bond with parents and form normal human attachments.
Decrease social stigma because children with cleft palate begin their lives not only with serious health issues, but also with a huge disadvantage. It is called ugliness resulting in ostracism, denial of education, or even death.
In a nut shell the foundation will provide referrals to qualified cleft/craniofacial teams, access to educational materials, emotional support via a support hotline, on-line support forums, general public awareness about facial differences and the networking of individuals and families for support purposes.
Infrastructure needs for HSF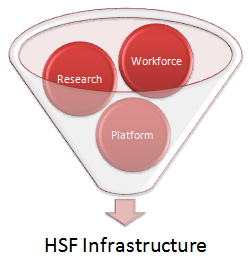 Professional workforce:
There is need to increase awareness of the dental needs of cleft lip and/or palate patients via education, practice and research. Researchers, educators and practitioners should have a broad mix of skills to resolve the challenge presented by cleft lip, cleft palate, and craniofacial anomalies in India. Underrepresented minority dentists play an important role increasing awareness as they have better access to under-served and minority populations. They also influence other health professionals to be culturally more sensitive and serve as powerful role models. Sustained efforts, new partnerships, and innovative and flexible programmes are needed to ensure a competent, diverse and robust workforce for research.
Strengthen the research:
There is need to strengthen research initiative with the aim at establishing baseline standards of cleft care in India and to assist HSF Centers to take part in clinical research. This will address the challenge of birth defects and craniofacial anomalies in India. Ultimately the research will improve quality of cleft care in India in the future. Research strategies have to address the significant burden of craniofacial anomalies in India. This can be carried out in dental schools, different components of academic health centers, hospitals and independent research institutions. The dental schools are important to conduct research and train the future researchers. These are vital for the future of clinical and applied oral health research.
Platform creation for united efforts:
It is vital to form a multilateral and an inclusive research platform that allows activities and inputs from professionals from diverse backgrounds for compilation and maximization of efforts and outcomes. This will help in utilizing media and communication for transforming research into practical benefits for the common man. IDA realizes the need for a platform for enhancing skills and techniques, in addition to learning the latest treatments for craniofacial patient care. Developing inter-disciplinary teams consisting of surgeons, orthodontists, genetists, speech pathologists and other experts is needed with cutting edge education, training, continuing education, research and know-hows in craniofacial and cleft surgery through data sharing.
Strategic initiative needed
Train professionals:
Train professionals to face the challenge of birth defects and craniofacial anomalies. Training must address and increase awareness of the dental needs of cleft lip and/or palate patients impart knowledge and skills required for intervention and provide updates on emerging approaches. The following points should be remembered while training professionals.
HSF needs both financial infrastructure and staff with expertise to train professionals.
Next for implementation at national level streamlining and stratification of training is vital.
The dental professionals need to be sensitized about craniofacial anomalies and staged treatment requirement.
Set up collaboration with experts from various disciplines to value add to the training sessions.
Create media and public awareness:
That repair of a cleft palate often requires multiple surgeries over the course of 18 years. The target audience, patients and families are informed so that they can make decisions in a manner that will improve clinical care and overall health. Target audiences include health care providers, consumers, research community and other groups such as educators, policymakers, industry, and media. One of the main challenges of our health communication efforts is to find the most effective way to communicate and disseminate health information, clinical information and research findings to target audiences. Here our strategy is to use communication to make HSF Centres' services available as well as accepted and approchable to people.
Establish and develop collaborations:
Good communication within the cleft team is important. Extractions should be carried out only after consultation with the orthodontist. Consultations with the maxillo-facial surgeon is must if orthognathic surgery is planned. The plastic surgeon has to be seen to discuss the need for further reconstructive surgery. The consultant in restorative dentistry will be involved with the planning and timing of any complex restorative work. Psychological counseling is also needed for patients with a cleft who feel that they are unable to cope with their problems or discuss their worries.
Healing the cleft lip, cleft palate, and craniofacial anomalies cannot succeed as an isolated programme. This must include the preventive, curative and rehabilitative aspects of care.
This necessitates network for collaborations and interaction with different science streams and informs them about our various initiatives and developments.
This will not only defines HSF's identity but contribute to various disciplines by contribution our knowledge base thereby creating a relation of bilateral benefits.
Creating tangible evidence base
The aim is to create a tangible data base by effective and practical data collection on the website. To achieve this professionals are given training and modules are made easy and self explanatory so that utilisation is possible by all.
Upgrading and developing questionnaires and modules from the preliminary stage to maintain the data quality. These pertain from initial questionnaires handed out to the patients throughout the patient-dentist interaction.
Data sorting and analysis needs documentation of the collected data. This makes the generated data more practical and helpful.